Shi started to learn embroidery at her 8 years old. The well-preserved family craftsmanship resource, her mother's strict teaching styles as a great arsenal to support master Shi quickly picked up and developed her embroidery techniques. "When I focus on practicing my embroidery work, sometimes I forgot the time before I realize it's morning. We used the kerosene lamp when it was getting dark since there was no electricity in the old times. " Her talented embroidery craftwork is reflected in the diversity of the embroidery pattern, the style, and stunning color designs.
From giving speeches and craft classes in the schools and her workshops, to selling her work in the Kaili embroidery market in Guizhou, she is determined to spread her folk culture by seeking different possible approaches.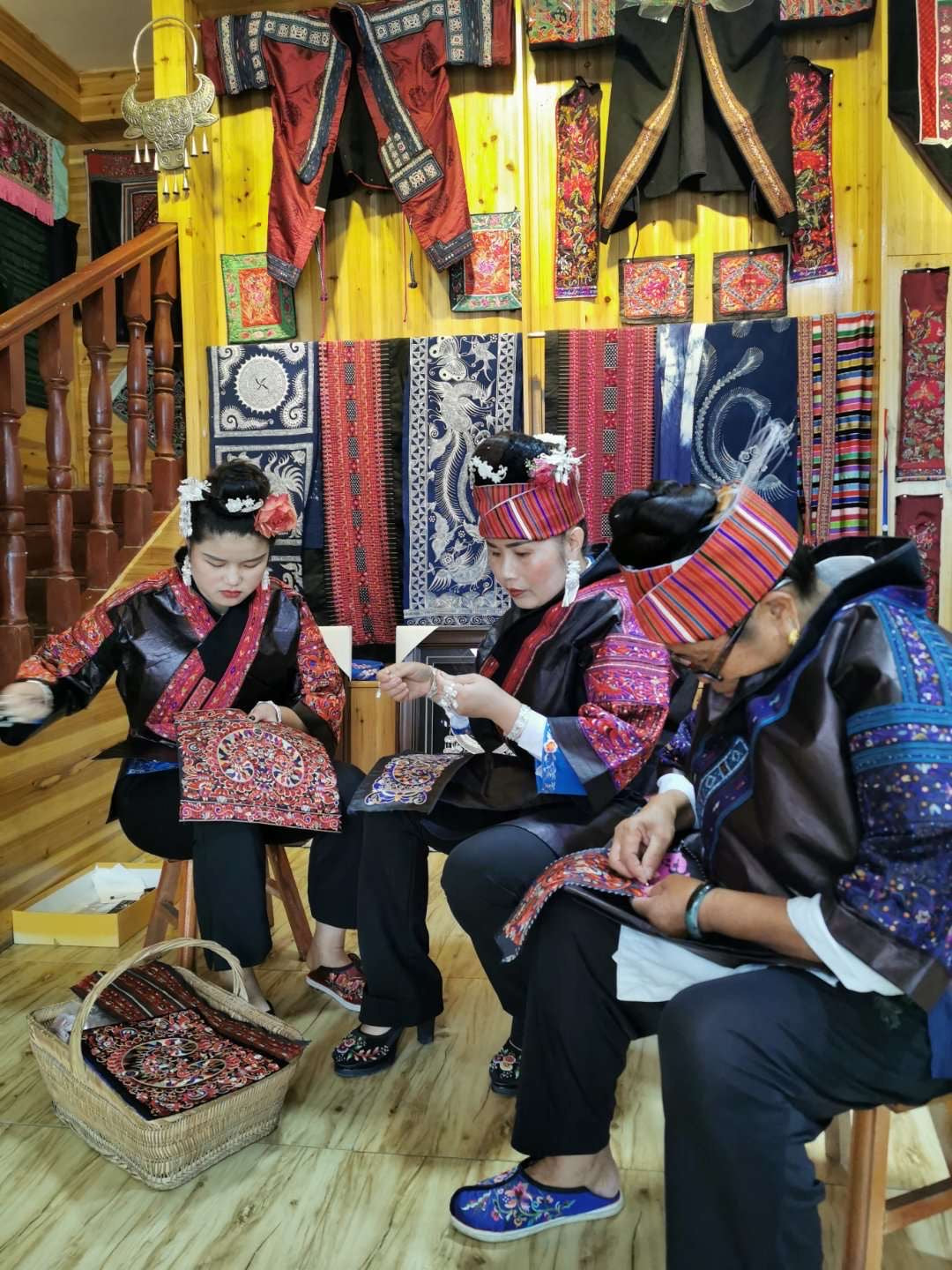 She is continuously progressing in her embroidery techniques by studying, researching, and creating new projects. Master Shi enjoys collecting vintage pieces to learn new things from old wisdom. She often attends the embroidery competitions and training courses including the annual Burberry training projects to exchange ideas and skills with her peers.
Master Shi specializes in her local embroidery technique called spilted-thread stitching, a unique style belonging to the Taijiang Miao embroidery in Guizhou.
Compared with other embroidery types, this exquisite spilled thread technique challenges the craftswomen to spill one thread into more units, sometime six or even eight units. The thinner the thread can the embroidery patterns look further alive.
Spilt thread Stitching Patterns
In her 30 years of embroidery life, she is always exploring the possibilities of modernizing her traditional technique as a way to explore a new form of crafts art and preserve the traditional handicraft.
Then she got a great chance to collaborate with the fashion group OTB in 2019 for the MARNI MIAO project.
The one-year's of the dialogue and collaboration between two cultures has great inspired Marni's creative director Francesco Risso by the the intricacy and skill of Miao 's artisanal work, has featured a selection of innovative pieces by transposition Miao's craftsmanship into a contemporary ward-robe. 
This project has also spawned a photographic documentation book entitled Song Flowers that lensed by Jack Davison.
The book illustrates many of the Miao's traditional skills and how they sustain their beauty and functionality in an era of globalisation and socio-economic change.
She also collaborates with some younger designers and carried out art and fashion projects to continuously create innovative interactions that transcends time and space.Her projects have developed many works and income opportunities to benefit the local craftswomen community by training them with the craft work.